Often overlooked or ignored in a "frame-up" rebuild is the restoration of all the decaying nuts, rusty bolts & greasy fasteners back to their original (or better) condition. And because most of these parts were zinc plated at the Moto Guzzi factory, we re-plate them as part of the restoration process.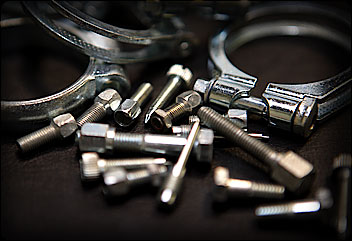 Commercial zinc plating has a standard minimum thickness of 0.00015 inches, and is therefore ideal to use on certain fasteners, as the added thickness won't affect the treads. Zinc is also an economical type of plating and offers good corrosion resistance. As long as your bike is garaged away from the elements, zinc plating will sufficiently protect it and provide metal fasteners and other zinc plated parts with a long, shiny life.
A smaller number of Moto Guzzi parts were originally plated with cadmium. Cad plated surfaces have a greater resistance to corrosion than zinc - so robust against harsh environments that cadmium is commonly used to plate aircraft and aerospace parts. Cadmium is a much more toxic metal than zinc, which makes the plating process more difficult and costly. We offer cad plating to anyone willing to pay the extra cash for added durability, but at 10 times the price we don't recommend it's usage in large quantities, check out the picture here:
If you drop your Guzzi off at the shop, or even just a bucket of Guzzi nuts and bolts, ask for the zinc & cad plating service and we'll take your rusted, greasy, and beat-up fasteners and return them to you sparkling bright; with the freshly re-plated coating of your choice.