Our first priority in frame inspection is to check for straightness. If the bike has been involved in some type of crash or has sustained enough damage to bend or tweak the frame out of alignment, we recommend you replace the entire frame with a good used one of the same year. Cycle Garden does not advise the straightening of loop frames, as our experiences have determined it is not cost effective.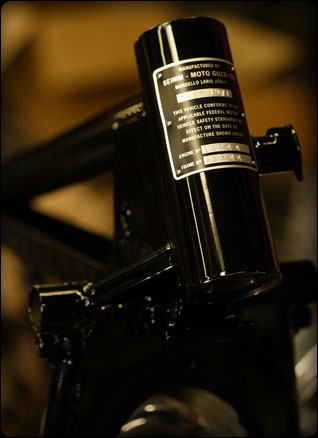 We keep a supply on hand for just this purpose.
A common symptom with a bent frame is that the rider will experience the handlebars being shifted off center when riding straight down the road. Another sign being that the front fender stay may hit the generator cover when braking.
After we're sure the frame is true, we will also inspect swing arm and triple trees for damage, then it's off to the powder coater, after which we install new bearings in the swing arm pivot and steering head/front triple trees.
Powder coating is an oven-baked finishing process with several advantages. Unlike paint (which sits on the surface) powder coating actually penetrates bare metal and subsequently has a much more durable and corrosion resistant finish. The "powder" is actually finely ground particles of pigment and resin that are electro statically charged and sprayed directly onto the grounded frame.
One powder-coating is said to be the equivalent of 7 coats of paint, but powder coating does not have the luster of high quality automotive paint. Therefore we highly recommended the option of top-coating with a polyurethane base and clear paint. This will give a greater sheen and create a long lasting (30 year) high gloss finish. It's our experience that a straight powder coated finish will begin to fade in as little as 5 years; perhaps sooner with prolonged exposure to UV sunlight rays.
Each machine comes from the factory with a serial number stamped on the frame down tube and on the left hand crankcase cover.
Cycle Garden carries exact reproduction of Federal ID Tags for use with North American Export Moto Guzzis. We have tags for Ambassador, Eldorados, V7 Sports, T3's, and G5's which we match stamp to your old tags. If your tag has been misplaced or destroyed, we will need a copy of your title for verification.