We sell high quality US made Mac replacement mufflers for vintage Moto Guzzi v-twins with stock 1.5" header pipes. These chrome mufflers fit V700's, 750 Ambassadors and 850 Eldorados from 1967-74.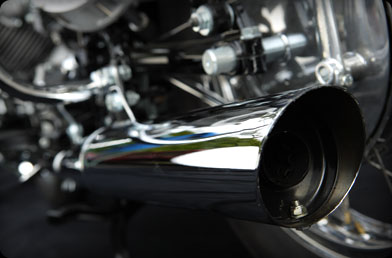 We offer the stock Eldorado style 'slashback' mufflers or a custom fishtail design, (which are louder). These are very easy to bolt on and do not need an exhaust crossover. There is also no need to re-jet your carburetors making this a simple, straightforward installation.
We also sell replacement header pipes in chrome. Before installing, we recommend you coat the inside of the new chrome headers with high temperature paint. This slows the chrome from "bluing" or darkening.