The seeds of the Moto Guzzi motor bike actually began in the squadrons of the Italian air force during World War I. Two flyboys, Emanuele Vittorio Parodi and Giovanni Ravelli met a young mechanic, Carlo Guzzi and discovered a common interest: motorcycles.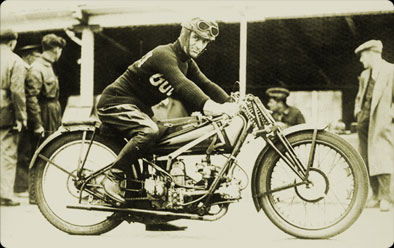 Together, they dreamed up ways to revolutionize this new industry. They sketched designs, built prototypes and were ready to start their fledgling company when tragedy struck. Sadly, Ravelli was fated to meet an untimely death in a flying accident. And in his honor, Parodi and Guzzi decided upon the eagle icon of the air corps as the emblematic symbol for Moto Guzzi.
Despite this setback, the decision was made to continue with the original plans, and in 1921 Carlo Guzzi was ready to unveil his prototype to the world. The first machine was called the GP; for Guzzi-Parodi. But as plans progressed, the pair instead chose to christen the bike with the names sake of its designer. Later that year the very first production Guzzi was born, the 500cc Normale. At that time, the Normale's design was revolutionary: an 8 horse power engine with an overhead cam, a 4-valve head mounted to a low-slung frame that could reach a maximum speed of 80 km/hour. Far ahead of its time, the Normale was the first of many successful Guzzi track racers.
After stellar racing performances at Targa Florio, Moto Guzzi was on the international motor biking map. In 1934 the Guzzi 500-twin made its debut,
sporting a 120° V-engine and virtually dominating the World Championship circuit. The very next year, both the Moto Guzzi 250 and 500-twin, with their elastic frames, ran to victory in the infamous "Tourist Trophy" that took place on the Isle of Man. That TT victory marked the first time in motorcycle racing history that a non-English bike had won the most important race in the world, forever cementing the legacy of Moto Guzzi among racing fans. The winning streak would continue for decades, including 14 World Championship titles.
Shortly after World War II, the Italian motorcycle market underwent a surge in demand for inexpensive forms of transportation. Italians fell in love with their economical scooters and their lightweight motorcycles, which spelled great news for Moto Guzzi. Following the war and throughout the 50's they developed dependable and easy-to-handle bikes that were sold both in Italy and throughout war torn Europe as a way to bring mobility to the masses.
It wasn't until the 1960s until major changes occurred at Moto Guzzi. Giorgio Parodi had died in 1955 and Carlo Guzzi passed away in 1964 at the age of 75. No longer able to draw inspiration from its founders,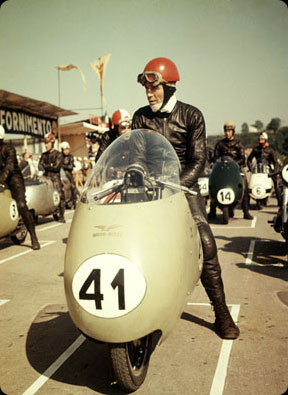 a new era was emerging for Moto Guzzi and none proved more important to its future than the inspired engineering by Giulio Cesare Carcano, who in the mid-1960s with Umberto Todero began development of the first 90° V-Twin engine - a spark of ingenuity that would soon grow to be the very symbol of Moto Guzzi. With Carcano's dream realized, and the successful launch of the V7 in Europe, North American exports soon began arriving in droves in the form of Ambassadors, Eldorados and later V7 Sports. As if to prove the strength and integrity of that design, the Moto Guzzi continues to be produced today; almost 40 years later. Now celebrating its 85th anniversary, Moto Guzzi has certainly enjoyed an imaginative and rich history as both racing legend and touring workhorse of armed forces and police departments. On a pure enthusiasts take, no make is more loved on a world-wide scale.
By helping you restore and preserve these wonderful motorcycles, we hope that you'll begin your own history with Moto Guzzi, one that you'll cherish and enjoy just as countless others have - ché motociclo bello!