If your transmission is constantly popping out of gear, has a broken shift spring, whines, or leaks excessively it is definitely time for a rebuild. We realize everyone likes the added power of the Big Bore Kits, but Guzzi transmissions need love too.
Cycle Garden can completely rebuild both the 4 and 5-speed transmission in your vintage Moto Guzzi. Correctly rebuilding a Moto Guzzi gearbox requires years of experience, knowledge and precise mechanical skill. Cycle Garden mechanics are well equipped with the necessary assortment of Moto Guzzi factory tools, specifically design for transmission work.
Once cracked open and assessed, we can rebuild gears (if rebuildable) and sliders or replace them with new or quality used components, along with new bearings and seals.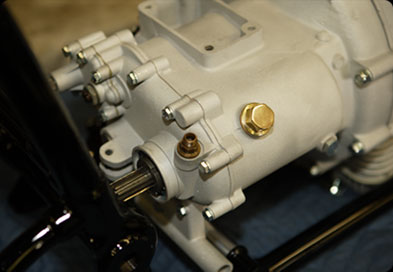 Typically, these can last from 20k to 200k depending on the operator, but on average, a rider can expect up to 100K miles from a properly rebuilt and maintained transmission.
We service and repair Moto Guzzi transmissions from all over the world. Minimum inspection time is 2-hours shop labor, and once we have diagnosed the problem we will call with a quote. All of our transmission work comes with a one-year unlimited miles warranty.
Normal turn around time on transmission rebuilds is 2-5 days.