Both the Eldorado and Ambassador proved so dependable that the California Highway Patrol, LAPD, and other City motor pools purchased large quantities for their motorcycle fleets during the 1970's. After years of service, many were sold at police auctions, and thus, a high concentration of police-spec Moto Guzzi's remain in Southern California.
850 Eldorado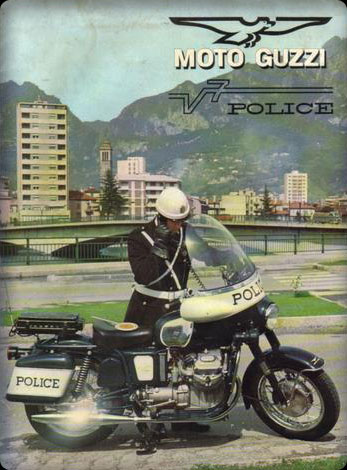 The Eldorado came in both a Civilian (footpegs) and Police (floorboards) version, with different dashes, running boards and shift linkage. The surest way to identify your frame as an authentic police Eldorado is to trace the remnants of a siren bracket. With luck, your siren bracket survived the police auction, where most were systemically ground off and removed to keep civilians from unlawful misuse. Often, traces of the bracket remain. A different version of the Eldorado, called the California was also sold in North America. It was basically an Eldorado Police bike with chrome plated fenders and a double seat. Essentially a police bike made for the civilian market, the California does not have a siren bracket (or evidence of one being attached) and conversely, the police models were not produced with chrome fenders and a double seat.
750 Ambassador
Early Ambassadors came with a single speedometer with the "idiot lights" (warning lights) mounted inside on the speedometer's face. The first 1969 police bikes used an additional steel bracket located on the front of the speedometer housing to display four additional warning lights.
The first police bikes used a larger tank, while the 1969 Ambassador civilian used a V700 tank which is rated at 4.1 gallons. For the police-spec machines, Guzzi with input from the Berliners) developed a larger 5.5 gallon fuel tank with a twist-off cap, while the civilian version used a hinged, flip-up style cap. In 1969, the Ambassador Police came with a sprung solo seat. When Moto Guzzi developed the spring for the LAPD, they used the Italian Police 'Caribieneri' solo seat pan, but remounted the springs for the LAPD in steel cups that attach to the frame. Could this be to offset the increased weight of the typical American police officer?
Police Eldorado: specifications
-850 cc
-Solo seat
-5-speed transmission
-Aluminum dashboard w/single speedo and accessory lights around the dash
-Tripmeter/odometer on late 1973 and 1974 police models
-Windshield brackets
-Spotlight brackets with Dietz Spotlights
-Siren bracket to house friction siren, or optional electric siren
-Black tank sheet metal and white fenders (California version had chrome fenders)
-Single toolbox. Only one toolbox due to position of ignition switch under left side of seat
-Shifting linkage: Floorboards with heel/toe shifter
-Early models fitted square leather saddlebags
-Late models, metal "ammo style" boxes
-Boot guards
-5 ½ gallon gas tank
-Rear crash bars

Civilian Eldorado: specifications
-850 cc
-Long double seat
-5-speed transmission
-Civilian Dash (speedometer and tachometer side by side)
-No tripmeter/odometer
-Dual toolboxes
-Shifting linkage: Footpegs with heal toe shifter, 1 up and 4 down.
-1974 Civilian had aluminum handlebar risers
-5 ½ gallon gas tank
-No rear crash bars
Factory colors:
1) All black with white pinstripping
2) Metallic burgundy tank and side covers w/white fenders.
3) All white body work with black patch on top of tank.