When preparing to bring a vintage Moto Guzzi back to life, most enthusiasts and collectors will turn to the shop with the passion and experience of having rebuilt and restored hundreds of vintage Guzzis over the years. Cycle Garden is that shop.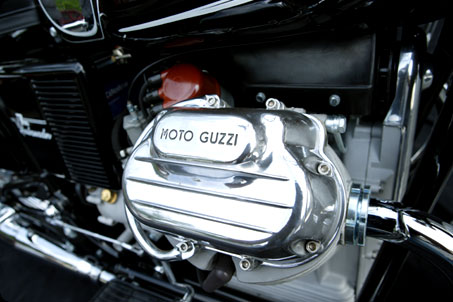 We've encountered just about every problem known to exist with these beautiful machines, and we take great satisfaction in solving them for our many customers.
Inside our well equipped shop, our knowledgeable staff has been resolving restoration issues for over 25 years. With so much of our work out on the open road, and with aging restorations holding up so well, it's clear that our methods with Moto Guzzis are proven; if not perfected. That's why all our restoration work is proudly covered by a one-year, unlimited mile warranty.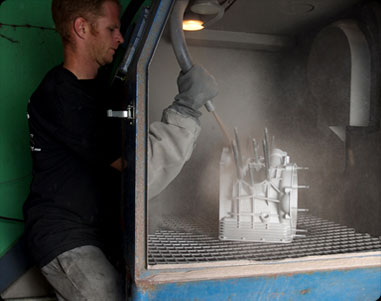 Restoration Options
At Cycle Garden we offer two routes for restoration: cosmetic or complete. If your Guzzi is in good mechanical condition you may desire a less costly cosmetic restoration, which can amass approx. 150 hours of shop labor. A cosmetic restoration often includes sheet metal work, frame powder coating, tank and fender paint as well as pinstriping and silk-screening. A complete "frame up" restoration includes all the features of the cosmetic, with the addition of an engine and transmission overhaul. Literally every nut and bolt on your Moto Guzzi is removed, re-plated, re-polished, and replaced. From the swing-arm to the spokes, our full restorations are what really turn heads. Each detailed restoration technique is designed to bring your motorcycle to exceed its original state - better than the day it rolled out of Mandello over 30 years ago.
Payment Plans
Costs of a restoration vary enormously depending on the current state of your motorcycle. Restoration quotes, both cosmetic and all-inclusive depend largely on the condition and completeness of your bike. Detailed photos (via email) are helpful in giving you a ballpark estimate, but it's difficult to quote unless we see the bike in person. Of course, engine and transmission rebuilds are quoted only after a visual inspection of the bike is completed here at the shop.
Full frame up restorations, which presently average between $25K-40K, depending upon if you proide us with a bike or we pull a bike from our inventory to restore for you. Restorations take upwards of 4-12 months to complete. Because of time and space considerations we ask that you call us in advance in order to reserve your slot (especially during the Spring/Summer).
For the benefit of our customers we offer pre-arranged payment plans, kind of a "pay as we go" process. After our initial quote, we can work out payment schedules for as long as 12 months, with the goal of making it affordable for you to restore your Moto Guzzi. We're happy to stick within your monthly budget and build you the bike of your dreams. Keep in mind that restoration package deals can save you as much as 50% compared to restoring your bike one section at a time over an extended period.
The underground-following vintage Moto Guzzis have enjoyed over the years has seen a recent surge in popularity. And consequently, the prices of these increasingly rare classics have been rising rapidly. We consistently see our restorations closing at auction sites for nearly twice the amount normally seen just a few years ago.
For more in-depth detail about Cycle Garden's restoration services, we invite you to browse the rest of our website and read the different sections that pertain to specific areas of restoration. If a Moto Guzzi restoration is something you're concidering, feel free to call Moe at (714) 848-5955 and discuss your project, and see what options might be available.