Throughout the 70's the Italian factory workers at Moto Guzzi hand-pinstriped their original sheet metal, and so do we. Staying true to the original Guzzi lines,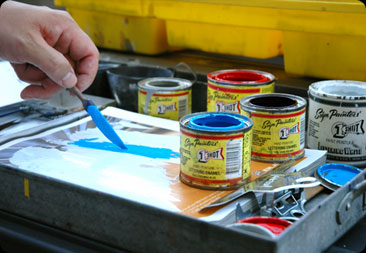 our pinstripers pull thick strokes of paint that accentuate the shape of Guzzi tanks and fenders. It's a skill that takes years of practice and a certain gift to acquire, and Cycle Garden has found some of very best artisans in Southern California to work with.
Our stripers begin by laying a strip of masking tape down approximately a quarter inch from where they want the finished line to be, then use the tape as a visual guide for the stripes. It's a remarkable skill to watch, and that's why we've included a video clip here in this section to enable you to watch the action as our pinstripers do their thing.
The lines of these pinstripes are part of what make Moto Guzzis unique from other motorcycles. And we think you'll agree that hand pinstriping evokes a certain classic feel, and serves as a great finish to any restoration project.