Chemicals and hand buffing can maintain an already polished aluminum part, but elbow grease and a can from Pep Boys won't erase 30 years of oxidation. What's needed is an industrial strength metal polishing wheel - one with enough horsepower to scour away years of neglect. Here at Cycle Garden, we operate a dedicated buffing station with just such a machine to polish your aluminum to a mirror-like finish.
Aluminum polishing can remove both oxidation and pitting, and establish a deep finish throughout the metal. All our Moto Guzzi aluminum pieces shine to the highest show quality. This includes: wheels, brake hubs, brake levers, speedometer housing, rear end, hand levers, carburetor bowls, intake manifolds, pulley covers, and valve covers. We can quote you per piece or by the lot. We can even repair some cracked or broken aluminum pieces.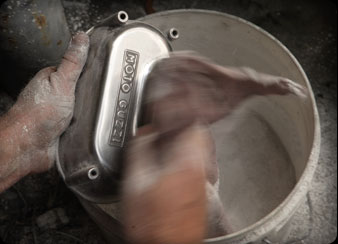 We prep the aluminum by fine sanding the surface (if needed) to smooth out the metal before taking it to the polishing wheels. We then use a Sisal cutting wheel loaded with a heavy-duty cutting compound to further flatten out the metal surface. At this stage a dull satin shine will begin to appear. The aluminum pieces are then transferred to a buffing cloth wheel with a much finer compound to bring out the chrome like shine. We finish off each stage by using Vicron powder to remove any excessive polishing compounds.
So don't struggle in vain to bring back the original shine on those corroded aluminum Guzzi parts. If parts are too far oxidized, only a high horsepower industrial polisher can bring them back to life. Call us for quotes.