Successful freeway speeds for vintage Guzzis can be realized with the Cycle Garden Big Bore Kit. Just think, for a fraction of the price of your wife/girlfriend's silicone implants, you can now rev your own motor in a whole new way. Although both will give you equal joy, the Big Bore Kit is within your budget at a price of only $975 (exchange) for the Eldorado, and $950 (exchange) for the Ambassador (we need the cylinder cores).
The Cycle Garden Big Bore Kit includes: 2 German made forged pistons (within a quarter gram tolerance of each other) - 88mm - 2 matching re-sleeved cylinders - 2 new wrist pins, wrist pin clips, 2 head gaskets, 2 base gaskets and 12 sealing O-Rings. We do need your old cylinders as cores for reboring.
Once these new pistons are installed, you'll see a 15% boost in horsepower and an equal increase in torque. That's a surge in engine output to the tune of 100cc's. It's a bump your vintage Moto Guzzi is sure to notice as you punch out your Ambassador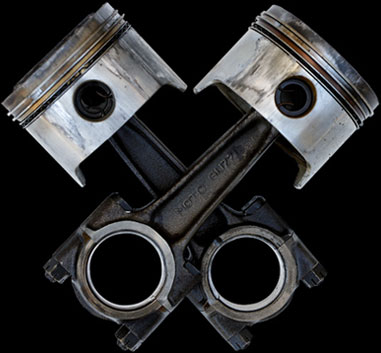 from 750cc's to 850cc's or in the case of a stock Eldorado, from an 850cc to a 950cc.
Our Eldorado big bore pistons are engineered to weigh within 10 grams of the original pistons, and have a ¼ gram tolerance between each other — that simple fact translates into not having to rebalance the crankshaft, making this big bore kit truly easy to install. So simple in fact, that these bored out cylinders "Slip In" the original Ambo or Eldo crankcase. No machining necessary!
Our Big Bore Kits are competitive in price with stock sized replacement pistons and cylinders. If you're already inside the engine, it's a no brainer; especially since our big bore kits are warranted with unlimited miles up to one full year.
And we're happy to stand behind them as we've been making our Big Bore Kits for over 10 years now and have sold hundreds upon hundreds to the Guzzi community. Simple, affordable and effective, these kits have proven just as reliable as the original pistons and cylinders. So give us a call if you'd like to order the kit, or just bring your Guzzi in -we can usually have the kit installed in one working day.