If your vintage Italian twin is smoking 'n' wheezing at stoplights or if the word "gutless" describes your engine as you putt along on the open highway, then it's high time you overhauled that meek and weak motor and recover the horsepower that belongs inside every restored Moto Guzzi.
Each Cycle Garden engine rebuild comes complete with our famous one year unlimited mile warranty. We stand behind our engines; as we rebuild and service more V700's, Ambassadors, Eldorados and V7 Sports than anyone else in the world. That wealth of experience allows us to guarantee our work 100%.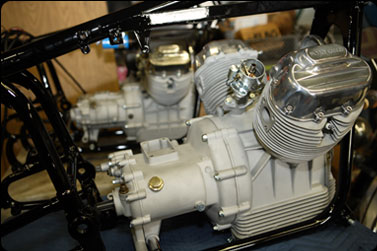 Once your engine is removed and stripped for inspection, we closely examine the crankcase, searching for cracks or any other possible damage. Next, camshaft and cam lifter clearances are checked and if needed, we repair any case damage before a thorough cleaning. This comprehensive detailing begins with bead blasting, followed by high-pressure air in conjunction with potent solvents to clean all of the oil passageways. When finished, your engine will look better than the day Moto Guzzi broke it from the mold.
Once we start re-assembly, we strongly suggest using the Cycle Garden Big Bore Kit (increasing horsepower and torque by an average of 15%) Click here to read more about our Big Bore Kits:
Average Engine rebuilds are running at $5K to $6K, as of Jan. 2009 pricing and shop rates. Pricing of your motor rebuild may vary depending on parts replacement and or motor damage.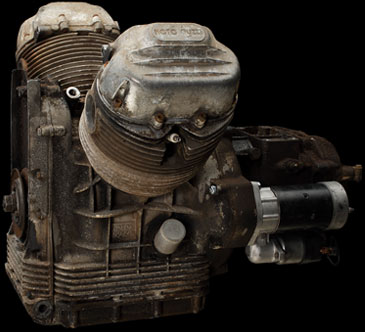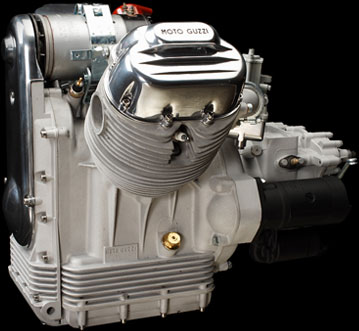 Here is a list of parts and services included with a Moto Guzzi Long Block motor rebuild:
Head
Polished and blasted valve covers, with new stainless steel Allen bolts and new valve cover gaskets
Head and cylinder barrel resurfaced
Precision 3 angle cut on valve seats
Vacuum tested Heads
New valve guides (if needed)
New Moto Guzzi valves (if needed)
Inspect head bolts and head studs for damage
Glass bead blasting
Polished valve covers with stainless steel Allen bolts
Exhaust thread replacement (if needed)
Cooling Fin repair as needed
Spark plug threads are Helicoiled or we re-weld sparkplug bore and thread (if needed)
Cylinder Barrel and Pistons
Pistons, pins and rings are weighted to match within 0.25 grams
Cylinder top is surfaced for flatness
Cylinder is bead blasted then pressure washed
Cam followers/lifters are surface ground
New pistons and rings
Cylinder Fin repair as required
Lifter replacement as required
Cylinder Barrel is re-sleeved to match each piston
Bottom End
Camshafts reground with T3 style cam lobes for better performance
Rods are weighed out to match within 0.25 grams
Balance crankshaft with rods and pistons
Crankshafts checked for Rockwell Hardness of (HRC 55) or above
Crank jounals lower than (HRC 55) are then Hardchromed
Balance flywheel and ring gear
New hardened bronze camshaft hold downs
All crankcase hardware is replaced with new stainless steel if desired, or we have zinced hardware in stock, and oil plugs are repolished
Crankshafts are magnafluxed, then ground and polished as required (hard chroming optional)
Main Bearing and rod journals on crankshaft are nitrate hardened after cutting (if needed)
Rods are resized, inspected for trueness and rebuilt with a new wrist pin bushing
New big end rod bearings installed and plastigaged to check clearance
Crankcase is glass bead blasted and pressure washed
Crank breather checked and replaced if needed
New main bearings are installed. [Our main bearings are custom made to fit each crankshaft, bearing material is high tensile strength bronze alloy, stronger that stock bearings]
All crankshaft keys are inspected and or replaced
Cam gears inspected and cam chain and adjuster replaced as required on later engines
Crankshaft or crankcase inspected and replaced if required
Flywheel and Clutch
New intermediate plate
Inspect flywheel and ring gear teeth and replaced if worn
New hardened clutch push rod
New clutch throw-out bearing installed as required
Clutch pushrods seals
New hardened flywheel bolts
Transmission
New bearings installed if needed
Transmission case bead blasted and pressure washed
Gear bushings replaced as required
Replace or rebuild gears as needed
New transmission seals installed
New shift spring installed (if needed)
All new stainless steel hardware if desired
All Cycle Garden engines are rebuilt by hand. The crankshafts are balanced together with the flywheel, rods and pistons. All crankshafts are cut, and hard chromed if desired . Rod bearings are custom fit to the rod journals and then plastigaged for proper clearance.
We regrind our camshafts with a Guzzi T3-style cam lobe. This gives more mid-range power and allows higher RPM's. We also hard chrome our camshaft bearing journals and double check camshaft clearance inside the motor case. We also sell hard bronze replacement cam hold-downs which are made of a stronger bronze than the original Guzzi component.
If your bike has been shipped to us for an engine rebuild, before delivery we will test it for a number of miles to insure proper 'running in' needed to return strong, long lasting performance for the life of the engine. This ensures that you, our valued customer, has a turn-key bike with no unexpected demons lurking around the corner.