Aside from the glossy glimmer of paint, one of the more glitzy sides of Guzzi restorations lies in the mirror finish of newly plated chrome. Therefore as part of the Cycle Garden restoration process all originally chromed items on your Moto Guzzi are re-chromed; this includes, crashbars, handlebars, header pipes, tank knee patches, fulcrums, springs, acorn nuts, lever pieces, headlight ring and fender stays. In most cases our rechromed parts have an even better quality to them than the factory original production chrome, and are certainly better than most reproduction parts made today.
One of the more iconic marks of vintage Eldorados and Ambassadors are the patches of chrome originally placed on both sides of the gas tank; sometimes referred to as "knee patches" or "chrome patches", these were put on the tanks to keep the riders knees from rubbing the paint off, and originated on a number of early European bikes.
At Cycle Garden we've found the best way to re-chrome a Moto Guzzi tank is to use a cutting wheel and completely remove the sides, cutting much larger than the original chrome patches. Under the old closed method the chrome plater could sometimes damage the tank due to the chemical stripping process - leaving acid residue inside. We've lost a few good tanks by this old method. But now, by exposing the interior of the tank, we can remove all the interior rust through bead blasting. This way we can inspect the inside of the tanks for rust damage and decide if the tank is solid before wasting money and time on re-chroming.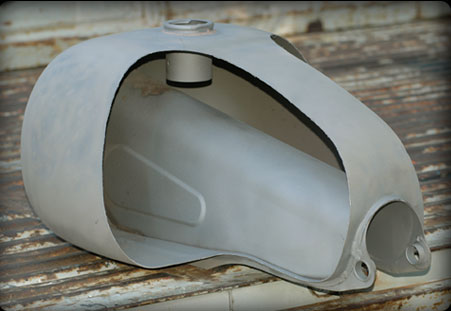 Plus, with the tank is exposed, we can repair any dings or dents easily without the need for excessive filler because we can pound the metal out from the inside. See Video here. Or the Vimeo Video here:
Better yet, this method enables the chromed tank sections to undergo triple plate re-chroming.
Then we take the tank body and powdercoat it to act as a petrol resistant sealant on the inside of the tank. Powdercoating the body of the tank prevents interior surface rust from forming and then building up eventually in the carburetors.
We then TIG weld the patches back and proceed to lead fill the weld. The lead also acts as a sealer, to close any possible pinholes in the welding process. This method of chroming the knee patches has been extremely successful and the typical problems associated (in the old days) with tank re-chroming have vanished. We warranty our re-chromed tanks for one year. As an extra percaution we will also coat the interior of the tank with a Ethanol resistant epoxy.
Rechroming the tanks runs $1100 as of March 2014, there will be an extra charge for damaged tanks, Any Paint work or paint prep work will be extra. See paint pricing here.