Spoked wheels are a timeless classic on vintage motorcycles, and having them re-laced and restored certainly will add to the overall beauty of your bike as well as its safety and road-worthiness. Check out our Quicktime video here.
At Cycle Garden each Moto Guzzi wheel is stripped apart so that it's inner-hub can be blasted clean with glass beads, then inspected for any damage.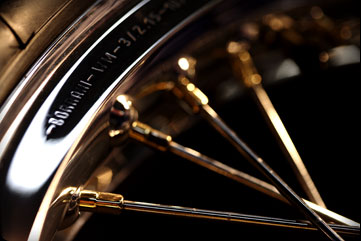 We then polish the outer aluminum hub to a mirror-like finish using our industrial polishing wheel, followed by hand polishing of both the stainless spokes and the brass spoke nipples.
We also can lower your Guzzi by installing a 16 inch rim on your rear hub, if a lowered Guzzi is something you desire. Call us for quotes on lowering.
With years of experience reconditioning wheels, we take pleasure in the details; that's why when polishing Guzzi rims we go to great lengths to protect and retain the original Borrani stampings.
In addition to the cosmetics of polishing a wheel, there is another art and science to assembling a wheel - transmitting all that torque from the hub to the rim requires a perfect balance, including sufficient spoke tension to handle the shock-loads brought on by potholes and rough patches of road.
Our wheelwright will first "true" your wheels using a specialized gig with a pointed indicator set to ride on the tire seating surface of the rim. The spokes are then tightened or loosened to pull the rim straight. To finish truing, all the spokes are tightened equal amounts, until they are snug. If the spokes protrude through the nipple, we grind them down flush to prevent them from popping the inner-tube. When this is complete, all the spokes have a certain "ring" when tapped.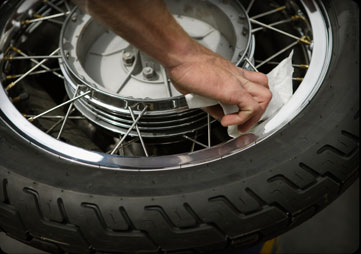 With your re-laced wheels "true" and your bearings cleaned and packed or replaced with new, we then mount and balance the tires using the old-school method of lead-wrapping the spokes. An unbalanced wheel will behave like a slow-motion pendulum and come to rest with the heaviest side at the bottom. By rotating the wheel away from the rest position and releasing it, we can diagnose it's balance and add the appropriate counter weights. This is an important step because unbalanced tire/wheel assemblies can vibrate at certain speeds, which not only accelerates tire wear but makes for a very uncomfortable ride.
If you are interested in this service, but live outside the Southern California area, you can ship us your complete wheels and we will strip, polish, lace and balance them for you, in what is usually a 4-6 week turnaround. Your restored wheels are then shipped back to you shiny as a freshly minted nickel. Wheel rebuilding runs $1000 per set (2) plus any replacement parts needed, tires and tubes are extra also.
Tire Options:
We like to use 120/90-18 sized tires for both the front and rear wheels on Eldorados and the Ambassadors. This gives the bikes that "full tire look" by filling in the fender wells and giving the motorcycle a more balanced feel.
We use European tires including Avon, Pirelli, Continental and Dunlop.