Perhaps more than any of Moto Guzzi's full-fendered classics, it's the Eldorado that exhibits the greatest measure of grace and presence. Due to the success earned by preceding models the Eldorado (like the Ambassador, its moniker was coined by the Berliners)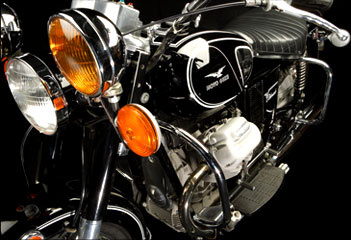 gained a large and faithful following, thanks in large part to the progressive engineering lavished upon it by Moto Guzzi's engineers. The fastest, smoothest and best handling of the series, many Eldorados were adorned with period touring accessories, but unlike its predecessors, the Eldorado was better equipped to handle the additional stress and weight. Inherited by a new ownership group headed by Alejandro De Tomaso, the Eldorado was unfortunately seen as a product of the old regime, and moves were implemented to cease its production and replace it in Moto Guzzi's line with models based on Tonti's V7 Sport frame. The final incarnation came in 1974, replete with disc braking, but history shows this was decided prematurely. Robbing the concern of six years of growing momentum, this action depressed buyers and resulted in a sales lull from which Moto Guzzi has never fully recovered.
Appearing outwardly unchanged from the Ambassador, the Eldorado nonetheless featured a number of significant upgrades. Combined with the 83 mm bore used to boost the Ambassador's output, Guzzi's engineers stroked the Eldorado's all alloy, 90-degree twin to 78mm, bumping displacement to 844 cc. New pistons raised the compression ratio to 9.2:1, giving the Eldorado a healthy 64.5 (crankshaft) horsepower at 6500 rpm. The crankcases now featured the internal and external webbing introduced on the V7 Sport, and grafted the sport bike's 5-speed transmission on as well; a move that greatly increased the engine's flexibility. The Euro-spec 850 GT gained the Sport's 4-Leading Shoe front stopper, while the Eldorado carried on with the same 2 LS front and rod-operated rear stopper fitted to the Ambassador. For 1974, a single 300 mm Brembo front disc and two-piston caliper was added, which also adorned a new version called the California; essentially a police-issue Eldorado with chrome-plated fenders and a thick buddy seat.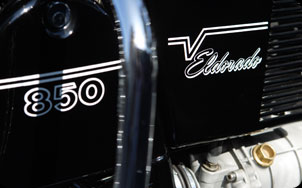 Long a specialty, Cycle Garden keeps both concourse-quality and solid running examples of the Eldorado in stock. For owners looking for specific service or parts, Cycle Garden's line of authentic, hard to find items will prove invaluable to those hoping to keep their Eldorado on the road for another 30 years. Visit or call Cycle Garden's Huntington Beach showroom and see for yourself the passion and skill that is lavished onto every Moto Guzzi in their care.