Shortly after the V7 Special's speed trials, Lino Tonti went to work designing a leaner version. Joining sporting legends of similar displacement from Ducati and Laverda, the V7 Sport quickly earned a reputation of being a well finished, highly capable machine with a penchant for travel. Quelling concerns of Japan's impending takeover, it thrived in an era when horsepower and clumsy manners teamed to provide the norm. Comparatively, the V7 Sport was a revelation; melding pure handling and solid engineering in a package formed with truly remarkable lines.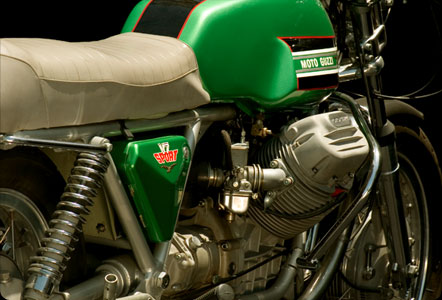 Proving the dedication of its designer, Tonti broke his leg testing one of the "Telaio Rosso" (red frame) prototypes, part of a select few machines hand assembled in Guzzi's race shop, then paraded around area race tracks to gauge response. Beaming with pride, the V7 Sport debuted at the historic Milan Show in November of 1971 to an enthusiastic and receptive audience.
Tonti transformed the stately touring manners of the V700 and Ambassador by designing a complete new frame. Formed with sections of straight tubing that directly joined steering head to swingarm pivot, the "Tonti" frame was shorter and stronger. Making the engine fit, Tonti replaced the top-mounted generator with an alternator placed on the crankshaft's nose, allowing the frame's backbone to travel between the cylinder splay. Featuring a new 5-speed hooked to a lightened flywheel, matching Dell'Orto VHB 30C carburetors (with built-in accelerator pumps)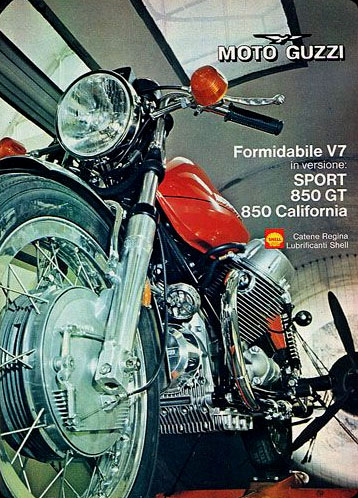 mixed fuel with the spark provided by a new Marelli ignition. Trimming weight, a smaller starter was fitted to the Sport's bell housing, activated by a twisting 'car type' ignition switch. As before, the camshaft was driven by a helical gearset and the closely spaced, 35mm forks were Moto Guzzi designed and made, decorated by a 220mm DLS drum brake. Useful features like the adjustable swan neck clip-on's, locking tool boxes, a hinged, swing-away stainless rear mudguard and an under-seat inspection lamp separated the Sport from its competitors. Factory rated at 70 horsepower, the V7 Sport provided the basis for models still in production today.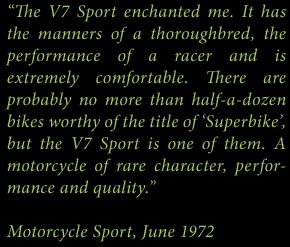 Considered a valuable commodity almost since its inception, the V7 Sport is highly sought-after by collectors and enthusiasts alike, routinely drawing high dollar amounts at vintage bike auctions and private sales. As a result, the V7 Sport can now be viewed logically as investment property, but one that will be thoroughly scrutinized for originality. In addition to providing the necessary skills, contacts and experience to correctly tune, repair or restore a machine of this caliber, Cycle Garden's Moe Moore can apply his vast experience and knowledge by consulting the prospective V7 Sport owner with important information before time and money is wasted.