We ship Moto Guzzi parts within the United States on a daily basis using UPS. For international orders we ship with the US Postal service. For large items we use transport companies such as Allied Freight.
Years ago, shipping companies required customers to crate up their motorcycles for long distance transport. You were responsible for providing the crate and crating the bike.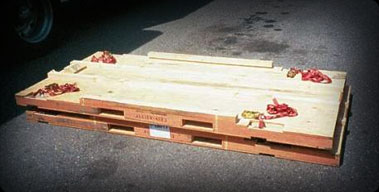 To add even more hassle, you had to drop the enclosed crate off at the nearest terminal. This was not merely inconvenient; it was a royal pain. Not to mention the added cost of crating.
But thankfully today most moving companies offer door to door "pallet shipping" for motorcycles. They will pick your Moto Guzzi up from your home or business and provide a heavy-duty wooden pallet with soft tie-down straps. After securing your bike to the skid they use a hydraulic liftgate to hoist it into an enclosed trailer so loading docks are no longer required. All-in-all, it takes less than a half hour from the time they roll up to the time they leave.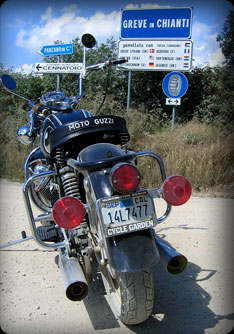 For added peace of mind, many shippers provide 24 hour online tracking services via their websites.
If you live outside the Southern California area and are considering having your Guzzi shipped to Cycle Garden, we highly recommend Allied Shipping Services. We've shipped the majority of our bikes through Allied with excellent results. We find them to be price competitive and easy to work with.
The direct line for motorcycle shipping at Allied is:
1-800-747-4100 ext. 2217 email at motorcycle@federalcos.com
Their website: Allied Motorcycle Shipping
We can also arrange overseas shipments for our customers abroad. To dial Cycle Garden from Europe press: [00 + 1 + 949 + 848-5955] Our manager Matt speaks both English and Swiss German and can be reached here at the shop both by phone or via email: matt@cyclegarden.com