The V700 entered into the marketplace just as the motorcycle industry was undergoing drastic changes. Until the mid-1950s, the world view of motorcycles was one of cheap transportation, and while this was especially true in Italy the sweeping popularity of the compact automobile changed everything.
Motorbikes now needed an identity; which usually arrived in the form of more size and power. Citing boundaries established by manufacturers from Germany, England and America, the additional burden of attaining critical contracts from military and police agencies necessitated a fresh approach. A substantial push came from an unlikely source; the Italian Ministry of Internal Affairs, who placed before Moto Guzzi and the other Italian makers an engaging contest; to the best new design a lucrative government contract would be given. These provisos were issued: 100.000 km's of serviceable use, and availability by 1966.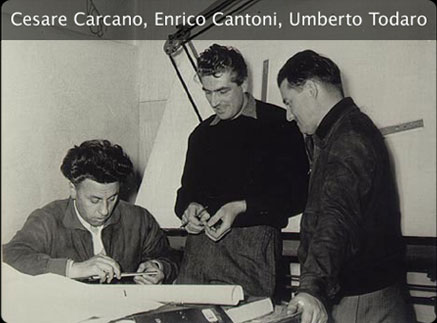 To lead this project, Moto Guzzi turned to its brightest star; ex-racing Chief Giulio Cesare Carcano. Gaining widespread acclaim for his work in championship-form aerodynamics, Carcano and his assistant, the late Ing. Umberto Todero (who also teamed to build Guzzi's legendary 500cc V8 GP racer) responded with a completely different concept. A simple, straightforward machine, the V700 focused on durability and ease of service, characteristics that helped it clinch the contract for Guzzi. Bolted to its steel tube cradle was an all new OHV, 704cc air-cooled V-twin with a beefy one-piece crankshaft that drove a center-mounted camshaft via helical gears. Fueled by a pair of 29mm Dell'Orto carburetors, the V700 came well equipped for police duty with a 300-watt Marelli generator and clean, reliable shaft drive. Strong and purposeful, the V700 was a masterstroke; 'North American' styling melded with sophisticated European engineering.
Considering that the first batch of V700's arrived nearly 40 years ago, many surviving examples of this future collectable will need the services of knowledgeable, experienced technicians like those found at Cycle GardenTM. One particular area of concern is the V700's hard-chrome cylinder bores.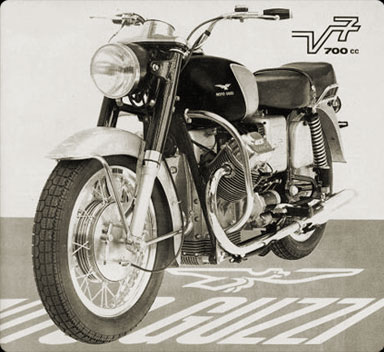 Introduced as an upscale feature, heat and common wear can cause the material to flake; leading to more extensive damage. So whether it is upgrading your engine into reliable workhorse, applying the exact shade of V7 red and gray, performing a careful, axle-to-axle restoration or polishing those lovely 18" Borrani rims, Cycle Garden will renew the rugged, reliable nature of your V700 to better than factory condition. Cycle Garden is the clear choice if your V700 is to be ridden and enjoyed as intended.