The most common electrical problem with Moto Guzzis are often the simplest, the battery. A dead or discharged battery is often brought on by a faulty generator or regulator, which we can rebuild or replace if necessary with Bosch or Marelli parts.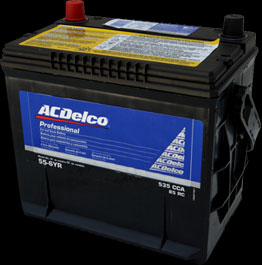 At Cycle Garden we use Delco group 55 batteries, which are in fact heavy-duty car batteries; producing 550 cca's (cold cranking amps) - twice the strength of the original Guzzi battery. But remember that starting issues with a poorly tuned Guzzi can run down even a new battery, so it's important to keep your Guzzi in good running order to ease the load on the starting system.
Sometimes electrical problems are as simple as changing out old battery cables, which can cause your engine to turn over slowly. We recommend using our heavy duty battery cables designed specifically for the Delco 55's which come with a lifetime warranty.
If your generator light continues to glow (above idle) then you could have an issue with the generator and/or regulator. The simple solution could be that the generator belt is broken and in need of replacement (which is rare). We'll diagnose your electrical gremlins and recommend the best solution. We offer fully rebuilt and warranted generators and starters.
Some electrical problems are tied to the fact that you simply have an old wiring harness. If your wiring harness has bad placement near moving parts, then it's susceptible to open contacts, poor contacts or short circuits.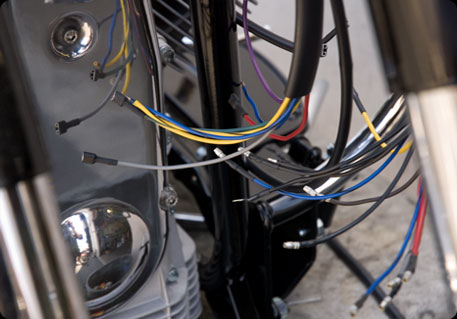 Older wiring harnesses are vulnerable due to corroded terminal ends and broken or melted wires caused by tire rub, gas tank pinching or even throttle/choke cables rubbing against them. If you have an original harness that has suffered severe damage, Cycle Garden recommends replacing the entire harness rather than patching and splicing. This not only solves your current electrical problem but eliminates further issues from creeping up down the road.
Cycle Garden specializes in wiring harnesses for the Ambo/Eldo civilian and police models; as well as the V7 Sport and V700. Our wiring harnesses are handmade here at the shop using Moto Guzzi's factory color codes, wire gauges and terminal ends. All come with a one-year warranty.
When your brand new Guzzi rolled out of Mandello, the CEV box switches were often replaced by the dealer with Yamaha light and turn signal switches. Some police departments (the early adopters) where having quality issues with the factory switches, and with good portion of early 70's Guzzi dealers also selling Yamaha, many found the Japanese switches to be stronger and more reliable. Technically not stock, we follow the principle of this early upgrade and sell new and used Yamaha switches as the suggested replacement.
Whatever the electrical problem, we at Cycle Garden will solve it quickly to get you back on the road.