A common problem with aging loop frame Moto Guzzis is their worn out suspensions systems. At Cycle Garden we specialize in turning wobbling, creaking suspensions into tight, smooth and safe riding legs.
Drum brake models (pre-1974) are prone to certain front suspension problems such as leaking fork oil from the fork seals.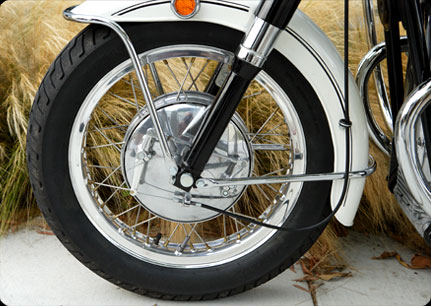 That loss of oil often leads to an unbalanced tension in your front end, creating an unsafe twisting motion while braking, or a "drifting feeling" at higher speeds. Disc brake models, like the 74' Eldorado, have their own set of problems to solve such as the front dampers freezing up or not dampening at all, which of course creates sizable safety issues.
We begin troubleshooting by checking fork tubes for wear; worn out tubes will cause steering slop and even slightly bent tubes will cause handling problems. We then check your steering head bearings for roughness or looseness, which can lead to poor and unsafe steering. Our standard fork rebuilding service starts with a minimum of 3 hours labor. We inspect the fork tubes for wear, the fork bushings, springs, seals, and replace any worn parts (all parts are extra).
We also offer cosmetic work on '73 and earlier Guzzi suspensions. We will powder coat and/or paint the fork lowers and fork uppers, and re-chrome the fork seal holders. On 1974 Eldorados we can re-polish the fork lowers and powder coat and paint the fork uppers (all parts and cosmetic work are extra).
The rear swingarm can also give you issues. Sloppy bearing adjustment in the pivot bearings or worn bearings can also give you a drifting feeling at higher speeds.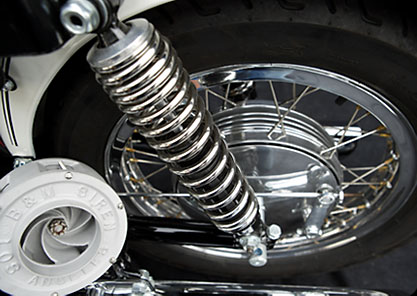 To further advance your suspension system we can replace your worn out original Koni or Lims shocks with updated units from Progressive that closely resemble the original shocks. Strong and durable, Progressive shocks give you the smoothest riding, best performing suspension system available for vintage Moto Guzzis.
A rebuilt suspension will restore the tight, safe ride your vintage Moto Guzzi had new. We recommend addressing this often-overlooked area in route to attaining an enjoyable, fully functional vintage Moto Guzzi motorcycle.