Too few recall the importance of Premier Motor's Joe and Mike Berliner; importer of Moto Guzzis into the US and Guzzi's largest export market at that time. And while ultimate credit for the design must go to engineers Carcano and Todero, without The Berliner Group, those achievements would have amounted to considerably less. By providing information critical to success on American soil,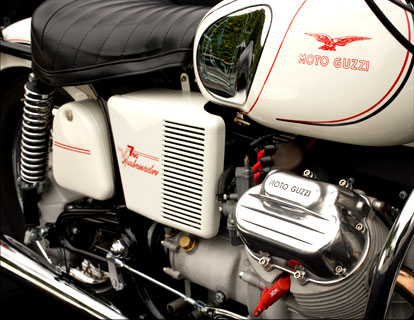 their input greatly shaped the specification of Guzzi's updated Ambassador 750 (called the V7 Special in Europe) which replaced the V700 in 1968 for civilian and US police purchasing. For reasons never made public, Ing. Carcano's departure from Moto Guzzis during a management crisis in 1966 opened the door for Lino Tonti, a well respected engineer with ties to Bianchi and Mondial. Tonti picked up exactly where Carcano left off, and with his vast racing expertise prepared two streamlined V7 Specials that in 1969 earned several world speed records in the 750/1000cc class. After years of uncertainty and financial issues, Moto Guzzi regained its place in an industry it helped to create.
Based on the previous V700, the Ambassador featured several upgrades that boosted performance and increased reliability. A bore increase (from 80 to 83mm) netted a new displacement of 757.4cc. While model year 1968 Ambassadors featured only the larger bore,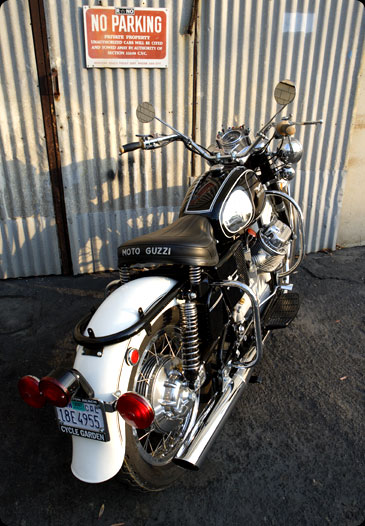 subsequent versions were fitted with a higher volume oil pump, larger intake and exhaust valves, plus redesigned pistons, cam gears and additional crankcase webbing. US versions mounted the shifter the left side of the machine, and thanks to its boosted rating of 60hp, a four-speed transmission delivered the Ambassador's new found grunt to a higher final drive ratio; slowing rpm's in the normal operating range and pushing top speed to (a factory claimed) 115 mph. Changes to the chassis included a lengthened frame; stretching the wheelbase to 58" and the steering head was given additional bracing. The lighting assemblies were also upgraded, fitment of a separate speedometer and tachometer (in 1971) a larger, 6.1 gallon fuel tank and three available colors (black, white or red) filled the specification sheet for the Ambassador tourer.
As a model that enjoyed strong sales figures in the US, most Ambassadors were ridden into high mileage. As a result, it is common to find many fitted with non-standard parts. While this may, or may not be acceptable for the sake of pure riding, the trained staff at Cycle Garden can correctly identify and retro-fit the various production configurations of the Ambassador, allowing its proud owner the choice of showing, riding, or both. A rugged, endearing machine, certain areas of its build - like the factory fitted front and rear drum brakes - should be addressed by the experts at Cycle Garden to allow the safest and most enjoyable riding experience.