<![if !IE]>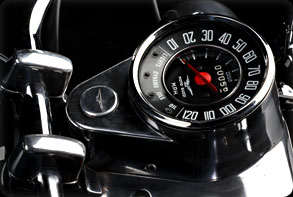 <![endif]>

Cycle Garden works with the best Veglia Speedo rebuilders in the country. We clean, calibrate, repair and restore all models of Moto Guzzi speedometers and dashes. We specialize in both civilian and police Veglia gauges of early Ambassadors and Eldorados as well as V700's, V7 Sports, T's, and G5's. Most every early V7 Speedo is available in stock, fully restored and ready to ship.
Whether it's a common case of an aging "O-Ring" slipping from under the bezel, or a bouncing speedo needle we can fix it. Some problems are handled in shop, including broken speedo cables or troubles involving the speedo drive worm gear. Whatever the issue might be, we can solve your instrument problems.
Our speedometer services range from basic, to complete show quality restorations. We can replace the glass, re-chrome bezels, replace or restore damaged artwork on dial faces as well as fix odometer wheels found on late model Eldorados.
As part of a full restoration, some clients request that we reset the speedometer to zero, in order to track the miles on a newly rebuild engine. We're happy to fulfill those requests or to keep your mileage original - your preference. As with most of our services, Cycle Garden Speedo repairs are warranted for one year against workmanship.
We can also repair the dashes, and re-polish or wrinkle finish your alloy dash housing. We also carry new and used colored lenses (idiot lights) for police and civilian model dashes, along with providing new and used electrical dash switches. Most speedometer rebuild runs between $350-$450, depending on damage and type of speedometer. Call for quotes, 714 848 5955.