You can have any color you want, as long as it's black...just kidding! We're probably not the right guys to airbrush ghost flames, with skulls n' daggers on your metallic tangerine starburst tank, but if you'd like to have your vintage Guzzi lovingly duplicated in the factory color scheme, then you've come to the right place.
All our paintwork is color sanded and buffed and our pinstriping applied by hand; as per original factory application. We also silk screen the Guzzi eagle (as opposed to decals) to the fuel tank and in the same manner we apply original artwork to side covers and tool boxes. See silk screening section.
When it comes to paint choices, most customers do decide on original factory colors. While not a vast selection of colors exist, the stock hues do look great. If you want something a little different, we've sprayed custom colors that have turned out splendidly. We'll be happy to work with whatever color scheme your heart desires, provided we're given the color code.
After blasting the sheet metal and finishing dings and dents, we prep our parts for paint by powder coating them; this serves as an advanced type of base primer. This technique is currently used on the following parts:
Better than etching primer, powder coating penetrates and seals bare metal. The "powder" is actually finely ground particles of resin that are electro-statically charged and sprayed directly onto the grounded sheet metal, resulting in a durable primer that is highly resistant to future rust.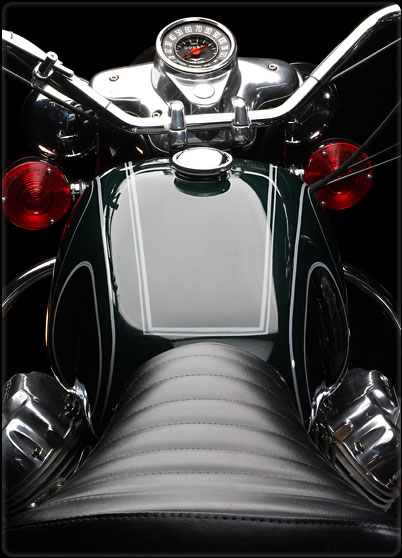 We then prep for topcoat by spraying a PPG epoxy primer on top of the powder coating. We scuff that surface layer and apply additional filler primers (usually several applications). Then it's on to sanding with 240 grit sandpaper and a soft sanding block. We continue sanding with finer grades; next to 320 grit, followed by 400 - 600. Once the sanding is completed we reduce the epoxy primer and apply it as an epoxy sealer to "seal in" all of filler primers.
Modern automotive paint is part of a two-step system that uses a base coat, followed by a clear coat. While our base coat PPG (DBC) contains the actual color pigment, it's the clearcoat (DCU) that adds that protective layer and gives the finish its gloss and durability. We may also use PPG (CLV) single stage. The urethane materials Cycle Garden uses today are much tougher than the old lacquers applied in the 70's and produce outstanding and long-lasting results. Urethane enamels were developed to withstand harsh environmental elements, such as acid rain and long exposure to UV rays. As such, they are uniformly regarded as the most durable paints to date and an excellent choice for Moto Guzzi restorations.
During the application of the topcoat, tiny surface imperfections inevitably occur because of airborne dust or other environmental factors. To remove these minor surface imperfections, we allow the clearcoat to dry at least 24 hours. Then begin to lightly wet sand with 1500 to 2500 grit sandpaper. This process, frequently referred to as "color sanding" fixes other common paint flaws such as orange peel; that bumpy texture seen when paint cures after spraying.
After color sanding it's time for buffing, which starts with a wool pad and a coarse polishing compound. Working small sections at a time, after a couple of passes you can actually feel and see the difference. We then go over the surface with a softer, black foam pad and a finer polishing compound. The end result is a deep "showroom" finish so smooth and glassy you'll swear it's still wet.
Paint work pricing for tank (without chrome pricing), fenders, 2 sidecovers, 2 toolboxes runs about $2500 for a solid color, Metallics run a little more. Any damage to the sheet metal may add to the cost. Pinstriping tank and fenders runs $300, Silk screening tank is $130 per set (single color) logos, Silk Screening sidecovers and toolboxes run at $40 each (single color), Minimum order is required for silk screening, call for quotes, 714 848 5955.
See Pinstriping and Silk Screening -